Now, through the browser, you can work with cryptocurrencies and blockchain.
Opera for Android has become the first popular browser in which the built-in wallet for cryptocurrencies has appeared . So far, the application only supports Ethereum and other ERC-20 standard tokens.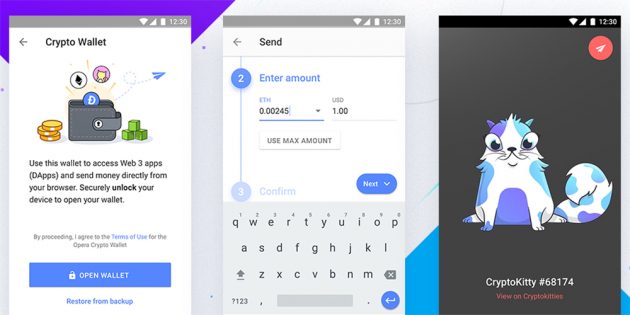 Previously, to use cryptocurrency required to install special programs. Opera allows you to make payments directly in the browser. In this case, registration of the wallet requires a minimum of action.
The company chose Ethereum because a huge community of developers of decentralized applications has formed around the currency. Among them, for example, the popular game CryptoKitties, in which you need to collect and breed virtual cats.
In Opera for Windows, macOS and Linux, cryptocurrency support will appear in 2019 – a test version is already available to developers. In the case of iOS, the requirements are more stringent, so the owners of Apple mobile devices will have to wait much longer.