Today i have swtiched to my computer Lenovo Ideapad 510s.
As i am Ubuntu user since 2010, i erased built-in Windows 10 and installed Ubuntu 16.04.  What i met there, let's talk about it.
Installation 1
Installation process itself: Everything went perfect. No any BIOS, UEFI or other trouble. Just next next and ready.
During installation i chose encryption settings.(boot startup encryption, then home directory encryption)
After installation finished, i started Ubuntu. At first look everything was perfect. But then i discovered some problems.
– After LID close system didn't go to sleep.
– After manual suspend via menu system went to sleep but it didn't wake up when i pressed keys and power button. I googled it and saw that it is common problem who encrypted SWAP disk too. SWAP encryption works with random key and i had to find a way to solve. After googling i found this solution and it helped.
– Restart command freezes the system.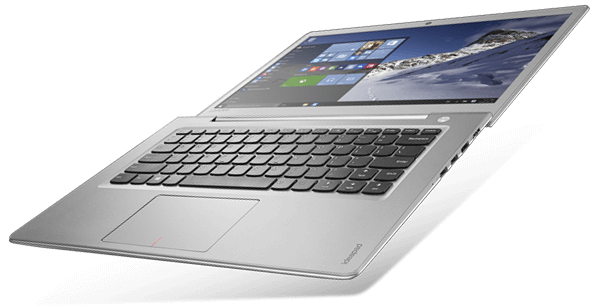 Everything else was perfect – Brightness control, battery performance, system performance and speed – everything as good as expected.
Installation 2
At the end i decided to erase everything again and reinstall Ubuntu, but this time without encryption. (just next next next) Just to make sure that Ubuntu works with Ideapad 510 and Ideapad 510s without any trouble.
I did all steps and get perfect installation. Everything works except one issue.
– When i close LID and reopen it, system freezes. No any reaction. Screen comes back without any problem. But i think the problem is with keyboard. Keyboard doesn't come back after LID close.
– Manual suspend and unsuspend sometimes works, sometimes not.
So, Installation 2 is better than 1st one, but still with some issues. At the end of this post i will update solutions for small issues.
It is my first Lenovo and i didn't have enough information about Lenovo Ideapad Linux compatibility. I tried and now i am happy with its performance.
Ubuntu touch, wireless, another hardware related parts are ok with Ideapad.
So with default installation settings Ubuntu 16.04 works quite well with Lenovo Ideapad 510s. The only problem with LID close wakeup, i will try manually solve that problem. I am sure there are some custom solutions at forums. I just didn't have a time to look for.
Issues and solutions
1. Brightness comes to 100% after each restart: The solution is here
2. Sometimes the system doesn't come back after suspend. Or it comes but freezes: this and this solved the problem.
3. Last thing which solved nearly all problems:
Edit GRUB file with sudo gedit /etc/default/grub command in Terminal.
and replace this
GRUB_CMDLINE_LINUX_DEFAULT="quiet splash"
with this line.
GRUB_CMDLINE_LINUX_DEFAULT="quiet splash acpi_backlight=none acpi_osi='!Windows 2013′ acpi_osi='!Windows 2012′"
Then save the file, and type
sudo update-grub
in terminal. Then reboot your pc, after reboot it should work OK.