How many miles (kilometers) can electric car go with one full charge?
400km, 500km, 600km?
So, Samsung SDI company unveiled new battery which can be enough for 310 miles ride (~500 km ).
Complete drive range will be around 600 km. So we can see that it can be charged by 80% just in 20 minutes. Which is really amazing.
We would like to remind that by start of 2017 Electric car max range is around 650 km which is promised by Lucid Motors


These innovations are expected to forge the leading position of Samsung SDI in the era of electro mobility. The development of the fast charging technology is making a rapid advancement thanks to its technological know-how in materials and processes that vastly decreased the resistance inside a battery cell. With a 20min charge, you can have a driving range of up to 500km which is 80% of the capacity. This means that only 20min in the highway rest area will be enough for a battery to be charged, eliminating the range anxiety of EV drivers. The mass production of this product is slated for 2021.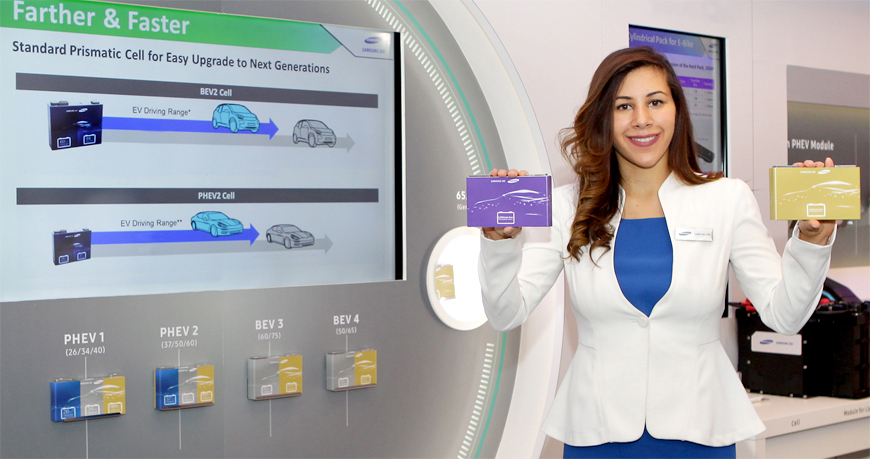 In addition, Samsung SDI exhibited a brand-new concept, "integrated battery module" catching the eye of its visitors. A conventional EV battery module which consists of 12 cells has a capacity of 2~3kWh. By contrast, an "integrated battery module" has more than 24 cells with a higher capacity of 6~8kWh, which makes it an adequate module in the full-fledged high-capacity EV era.
Source: Official website